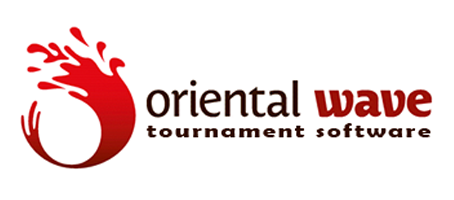 Oriental Wave Tournament Software©
Il nuovo software ufficiale Oriental Wave per tornei!
Gestisci i tornei di Cardfight! Vanguard in maniera efficiente e tieni traccia dei punteggi dei giocatori!
Scarica Gratuitamente
Ultima versione 5.5.0.0
Aggiornata il 11/05/2022 *Scaricando e Installando questo programma accetti l'EULA del Software.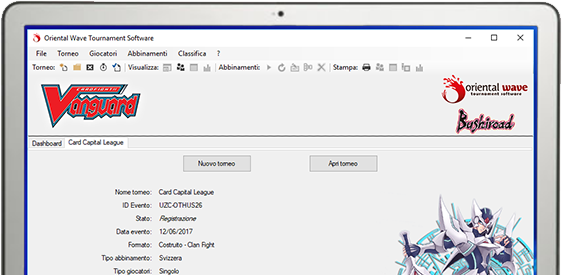 ---
Software di gestione tornei migliorato!

Il nuovo software di Oriental Wave nasce con lo scopo di migliorare gli strumenti già presenti sul mercato dei software di gestione tornei per i giochi di carte collezionabili creando qualcosa di intuitivo e facile da usare, migliorando e facilitando l'esperienza per gli organizzatori dei tornei senza però risparmiare sulle funzionalità principali di un software di gestione di tornei.

Creazione di tornei facilitata

La creazione di un torneo non richiederà che pochi istanti. Appena creato sarà infatti possibile aggiungere giocatori in maniera rapida e veloce tramite la funzione di ricerca presente all'interno del programma che utilizzerà il database degli utenti tesserati di Oriental Wave per Cardfight! Vanguard. Inoltre, per velocizzare tale procedura, i giocatori recenti saranno subito disponibili! Se invece un giocatore non risulterà tesserato, sarà comunque possibile creargli un account provvisorio per i fini del torneo oppure registrarlo direttamente senza uscire dal programma!

Abbinamenti rapidi e veloci

Una volta aggiunti tutti i giocatori, qualsiasi sia il numero di partecipanti, in pochi istanti sarà possibile avere gli abbinamenti per i round del torneo. Inoltre, le comode funzionalità di stampa, vi permetterano di informare tutti i giocatori in tornei con molti partecipanti e vi aiuteranno a gestire il torneo nella maniera più semplice possibile.

Integrazione Mobile

Con l'introduzione della VanguardApp è possibile, per tutti i tornei creati, inviare ai giocatori registrati in un torneo che possiedono l'app delle notifiche per informarli sulla loro posizione in classifica e su i prossimi abbinamenti, includendo tavolo e avversario! Infine, per velocizzare ulteriormente la procedura di aggiunta di un giocatore a un torneo, è possibile scansionare il codice QR dell'app per aggiungere immediatamente il giocatore al torneo in corso!

Classifiche perfezionate

Basta classifiche imprecise! Con questo nuovo software le classifiche rispetterano sempre l'ultima versione del regolamento di Cardfight! Vanguard e il tiebreaker sarà sempre preciso al millesimo, facendo affidamento sui punti ottenuti, sulla percentuale di vittoria di tutti i propri avversari e anche su quella dei loro avversari!

Penalità!

A tutti capita di avere dei giocatori che creano qualche problema. Con questa funzionalità potrete tenere traccia di tutte le infrazioni commesse da ogni singolo giocatore e vi aiuterà a scegliere come comportavi in ogni situazione!

Diverse modalità di gioco

All'interno del programma sarà possibile scegliere come vorrete strutturare il vostro torneo: Singolo, a Squadre di tre giocatori, in Tag Team, in Svizzera, a Eliminazione Singola. Prova anche la nuovissima funzione di Partite Classificate! Scegliete voi le varie combinazioni!

Sempre aggiornato

Tutti possono commetere degli errori, nonostante questo ci impegnamo a fornirvi una funzionalità avanzata di aggiornamenti automatici del programma "completamente gratuito" per aggiungere nuove funzionalità e migliorarne di vecchie!
---
Cosa stai aspettando ancora! Comincia subito il tuo torneo!
Scarica Gratuitamente
Ultima versione 5.5.0.0
Aggiornata il 11/05/2022 *Scaricando e Installando questo programma accetti l'EULA del Software.
---
Requisiti Minimi
OS: Windows 7 o successivi
CPU: 1 GHz o superiore
RAM: 512 MB
HDD: 2.5 GB
NET: Non richiesto
Webcam: Non richiesto
Requisiti Consigliati
OS: Windows 10
CPU: 1.2 GHz o superiore
RAM: 1 GB
HDD: 4.5 GB
NET: Scheda LAN/WLAN 1 GBit
Webcam: 2 megapixel / supporto WMI o DirectVideo
---
End-User License Agreement
ORIENTAL WAVE S.R.L.
End User License Agreement

IMPORTANT - READ CAREFULLY: BY DOWNLOADING, INSTALLING OR USING THE SOFTWARE, YOU ARE INDICATING THAT YOU HAVE READ AND AGREE TO BE BOUND BY THE TERMS AND CONDITIONS OF THIS END USER LICENSE AGREEMENT ("AGREEMENT"). IF YOU DO NOT AGREE TO THE TERMS OF THIS AGREEMENT, DO NOT DOWNLOAD, INSTALL OR USE THE SOFTWARE.

This Agreement is between Oriental Wave S.r.L. ("Oriental Wave") and you for the access to and use of the Oriental Wave Tournament Software (the "Software") that accompanies this Agreement, and sets forth the terms and conditions under which you are licensed to use the Software. Software means: (A) all of the contents of the disk(s) or other media with which this Agreement is provided, including but not limited to (i) Oriental Wave or third party software; (ii) digital images, stock photographs, clip art or other artistic works; and (iii) related explanatory written materials ("Documentation"); and (B) modified versions, upgrades, updates, additions and copies of the Software, if any, licensed to you by Oriental Wave (collectively, "Updates").

1. LICENSE
Subject to strict compliance with the terms and conditions of this Agreement, Oriental Wave hereby grants you the non-exclusive, non-transferable and limited license to install and use the Software solely for the purpose of reporting results of an event sanctioned by Oriental Wave. You may also make one backup copy of the Software for disaster-recovery purposes, provided that such backup copy contains the same copyright and proprietary notices that appear on or in the Software.

2. OWNERSHIP OF SOFTWARE AND COPYRIGHT
The Software and any copies that you make are owned by Oriental Wave and its suppliers, as applicable, and its structure, organization and code are the valuable trade secrets of Oriental Wave and such suppliers. Except as stated above, this Agreement does not grant to you any intellectual property rights in the Software.

3. RESTRICTIONS AND LIMITATIONS
You agree not to modify, adapt or translate the Software. You also agree not to reverse engineer, decompile, disassemble or otherwise attempt to discover the source code of the Software or assist a third party in doing so. You may not rent, lease, sublicense, distribute or lend the Software. This Agreement does not grant you any rights in connection with any trademarks, copyright or service marks of Oriental Wave. You agree that you are solely responsible for the security of your information, computer system, network connectivity and security, and any and all activities related to or resulting from the use of the Software.

4. ADDITIONAL SOFTWARE/SERVICES
This Agreement applies to Updates, supplements, add-on components, or Internet-based services components, of the Software that Oriental Wave may provide to you or make available to you after the date you obtain your initial copy of the Software, unless Oriental Wave provides other terms along with the Update, supplement, add-on component, or Internet-based services component. Oriental Wave reserves the right to discontinue any Internet-based services provided to you or made available to you through the use of the Software. You understand that Oriental Wave may modify, develop Updates or otherwise enhance the Software at any time and in doing so incurs no obligation to furnish such modifications, enhancements or Updates to you pursuant to this Agreement or to support or maintain the Software under this Agreement. You further understand that the Software may evolve over time and, accordingly, you may need to upgrade your computer hardware, software and/or system (or obtain a new system) to use the Software or access or use certain Updates. Oriental Wave makes no warranties with respect to your system's particular performance or capabilities with respect to the Software.

5. RIGHT TO SUSPEND OR TERMINATE USE
Oriental Wave reserves the right to terminate or suspend this Agreement (including any or all access to the Software) immediately and without notice if: (i) you violate any provision of this Agreement; or (ii) you infringe (or Oriental Wave or any third party reasonably believes you have infringed) any third party intellectual property rights or violate any applicable law, rule, treaty or regulation. If Oriental Wave terminates this Agreement for any reason, you will immediately cease all use of the Software and return or destroy the Software, as directed by Oriental Wave including, but not limited to removing and purging all electronically stored copies and portions of copies of the Software. Oriental Wave's termination of this Agreement and/or repossession of the Software shall be without prejudice to any other remedies that Oriental Wave may have at law or in equity.

6. DISCLAIMER OF WARRANTIES
ORIENTAL WAVE PROVIDES THE SOFTWARE TO YOU "AS-IS" AND "WITH ALL FAULTS". ORIENTAL WAVE AND ITS SUPPLIERS MAKE NO WARRANTIES, EXPRESS, IMPLIED OR STATUTORY, AS TO ANY OTHER MATTERS, INCLUDING BUT NOT LIMITED TO NON-INFRINGEMENT OF THIRD PARTY RIGHTS, MERCHANTABILITY, OR FITNESS FOR A PARTICULAR PURPOSE, OR ANY WARRANTY THAT THE SOFTWARE OPERATES ERROR OR VIRUS-FREE OR WITHOUT INTERRUPTION. THE ENTIRE RISK ARISING OUT OF USE OR PERFORMANCE OF THE SOFTWARE REMAINS WITH YOU.

7. LIMITATION OF LIABILITY
IN NO EVENT SHALL ORIENTAL WAVE, OUR PARENT, OUR LICENSORS, OUR AFFILIATES OR OUR SUPPLIERS, OR EACH OF OUR AND THEIR RESPECTIVE OFFICERS, DIRECTORS, EMPLOYEES AND AGENTS, BE LIABLE TO YOU OR TO ANY THIRD PARTY FOR ANY ANTICIPATED OR LOST PROFITS, REVENUE, DATA, CONTENT, ITEMS, HARDWARE, SOFTWARE, INJURY, INFORMATION OR SPECIAL, EXEMPLARY, INCIDENTAL, INDIRECT OR CONSEQUENTIAL DAMAGES (HOWEVER ARISING, INCLUDING, BUT NOT LIMITED TO, TORT, CONTRACT, STRICT PRODUCT LIABILITY, NEGLIGENCE OR OTHERWISE) ARISING OUT OF, IN CONNECTION WITH OR RESULTING FROM POSSESSION, USE, INABILITY TO USE, FAILURE TO PERFORM, ERROR, OMISSION, INTERRUPTION, DELETION, DEFECT, DELAY IN OPERATION OR TRANSMISSION, COMPUTER OR OTHER VIRUS, COMMUNICATION LINE FAILURE, THEFT, DESTRUCTION, UNAUTHORIZED ACCESS TO, ALTERATION OF OR MALFUNCTION OF THE SOFTWARE (AND/OR ANY COMPONENTS THEREOF), ANY FUNCTION OR FEATURE AVAILABLE, ACCESSED, DISTRIBUTED OR VIEWED THROUGH THE SOFTWARE, OR OTHERWISE UNDER OR IN CONNECTION WITH ANY PROVISION OF THIS AGREEMENT, AND INCLUDING, WITHOUT LIMITATION, DAMAGE TO PROPERTY AND, TO THE EXTENT PERMITTED BY APPLICABLE LAW, DAMAGES FOR PERSONAL INJURY, EVEN IF ORIENTAL WAVE, OUR LICENSORS AND SUPPLIERS AND EACH OF OUR RESPECTIVE AFFILIATES, OFFICERS, DIRECTORS, EMPLOYEES AND AGENTS HAVE BEEN ADVISED OF THE POSSIBILITY OF SUCH DAMAGES OR LOSS. YOU AGREE TO WAIVE ANY RIGHT TO EQUITABLE RELIEF INCLUDING, WITHOUT LIMITATION, INJUNCTIVE RELIEF AGAINST ORIENTAL WAVE, ITS LICENSORS, THEIR PARENTS OR AFFILIATES, OFFICERS, DIRECTORS, EMPLOYEES AND AGENTS TO ENFORCE THE TERMS HEREOF; HOWEVER, THE FOREGOING SHALL NOT PRECLUDE ORIENTAL WAVE AND/OR ITS LICENSORS FROM SEEKING ANY INJUNCTIVE RELIEF. SOME JURISDICTIONS DO NOT ALLOW THE FOREGOING LIMITATIONS OF LIABILITY (INCLUDING, WITHOUT LIMITATION, THE EXCLUSION OR LIMITATION OF INCIDENTAL OR CONSEQUENTIAL DAMAGE, DEATH, PERSONAL INJURY, GROSS NEGLIGENCE OR FRAUD) SO THEY MAY NOT APPLY TO YOU OR MAY ONLY APPLY TO THE EXTENT PERMITTED BY APPLICABLE LAW.

8. INDEMNIFICATION
You agree to defend, indemnify, and hold Oriental Wave, and any Oriental Wave suppliers harmless from and against any and all claims, demands, actions, liabilities, costs or damages (including attorneys' fees) arising out of your use of the Software or your violation of this Agreement.

9. GOVERNING LAW AND GENERAL PROVISIONS
This Agreement shall be governed by the Italian law excluding the application of its conflicts of law rules. Both parties shall submit to personal jurisdiction in Italy. This Agreement will not be governed by the United Nations Convention on Contracts for the International Sale of Goods, the application of which is expressly excluded. If any part of this Agreement is found to be void and unenforceable, it will not affect the validity of the balance of the Agreement, which shall remain valid and enforceable according to its terms. Oriental Wave reserves the right to conduct periodic audits to verify your compliance with this Agreement. This Agreement may only be modified by Oriental Wave, although Oriental Wave may vary the terms of this Agreement in connection with the licensing of any Updates to you.

10. NOTICE TO U.S. GOVERNMENT END USERS
The Software is provided with RESTRICTED RIGHTS. Use, duplication, or disclosure by the United States Government is subject to the restrictions as set forth in subparagraph (c)(1)(ii) of the Rights in Technical Data and Computer Software clause at DFARS 252.277-7013 or subparagraphs (c)(1) and (2) of the Commercial Computer Software-Restricted Rights at CFR 52.227-19, as applicable. Use of this Software by the United States Government constitutes acknowledgement of Oriental Wave's proprietary rights.

I have read, and agree to abide by the terms and conditions of this End User License Agreement.


---
Domande frequenti
Questo problema può verificarsi su qualsiasi sistema operativo Windows se alcuni file del servizio Windows Installer sono mancanti o danneggiati.
Metodo 1: Confermare che il servizio di Windows Installer sia in esecuzione.
Dalla tastiera, utilizzare la combinazione di tasti +R, digitare nel riquadro msconfig e cliccare sul tasto OK.
Nella scheda Servizi verificare che ci sia una spunta accanto alla voce Windows Installer.
Nel caso in cui non ci sia, spuntare la voce, cliccare su OK e riavviare il computer nel caso in cui venga richiesto.
Metodo 2: Disabilitare software di protezione
Potrebbe accadare che alcuni software antivirus blocchino il programma di installazione considerandolo come dannoso.
A seconda del vostro software antivirus, aprire il proprio programma antivirus e andare sulla voce Impostazioni.
Sotto la voce Protezione scegliere di disattivare momentaneamente la protezione. Riattivarla seguendo la stessa procedura una volta terminata l'installazione.
Consigliamo di controllare la documentazione del proprio software antivirus per una guida più dettagliata.
Metodo 3: Modalità provvisoria
Potrebbe accadere che alcuni software interferiscano con il programma di installazione, pertanto il metodo più rapido per procedere all'installazione è avviare il proprio computer abilitando solo i servizi essenziali di Windows.
Arrestare il proprio PC.
Durante la fase di avvio del PC premere sulla tastiera il tasto F8.
Utilizzare a questo punto le frecce direzionali perselezionare il tipo di modalità provvisoria da avviare, per i fini dell'installazione è sufficiente la Modalità provvisoria.
Una volta avviato il PC, eseguire l'installazione normalmente.
Arrestare il PC e accenderlo normalmente per ritornare alla modalità standard di Windows.
A partire dalla versione 5.0.0.0 cambiano molte cose all'interno del programma. Si potrebbe quasi dire che, nonostante l'aspetto esteriore simile, sia completamente diverso a livello di logica di funzionamento.
Chi ha utilizzato il software precedente, quindi qualsiasi software dalla versione 4.x.x.x e più vecchi, potrebbe riscontrare qualche problema dopo la procedura di aggiornamento automatico. Sono errori sparsi, casuali e di cui sono state ricevute poche segnalazioni, come errori di caricamento dei tornei o altro.
Per risolvere tali errori è necessario semplicemente disinstallare il programma dal Pannello di Controllo e reinstallare il programma scaricandolo da questa pagina.
NOTA: prima di procedere alla reinstallazione del programma è consigliato eliminare eventuali file residui all'interno della cartella di installazione del programma. Di solito la cartella di installazione si trova nella cartella C:\Programmi (x86)\Oriental Wave\ o simili.
All'interno del programma è disponibile una comoda guida che illustra tutte le funzioni del programma e spiega in maniera dettagliata alcuni algoritmi di abbinamento e di classifica
Per poter accedere a tale guida è necessario cliccare sul pulsante "Guida" disponibile nella barra di comando del programma, sotto la voce "?".